Cloud technology and services
Cloud computing is the trend of the time for many applications. The user simply can subscribe to an application and work on a computer over Internet with that. It is important the Cloud is available fast, if there are new requirements. In addition, today we destinguish between PUBLIC Cloud, where everybody can apply, or whether it is about a Private Cloud where the group of users is restricted.
With our product IT IS sky we provide the suitable answer to the questions around the Cloud for many of our products and beyond. This service offers you the hosted application as Private or as PUBLIC Cloud, is established in the IT IS data centre for fast and secure availably. Whether it comes to portals, communication solutions, ERP solutions or other applications which shall be accesible over web or with terminal services: IT IS sky reliably delivers the solution.
It starts with the multiple connection via glass fiber and copper lines to the Internet. The double protection in every step from the routing, switching and firewalling provides high reliability and safety. The servers are itself clustered as 16 ways IBM servers which usually serve as a host for virtualization technologies, or represented in the form of BladeCenters which would serve directly or virtualized as well. The solution simply scales out to your needs with the amount of Blades or v-servers. There are a number of big dedicated IBM servers on premise for bigger dedicated projects. The software base reaches from Microsofts Windows Server 2008 R2 to Windows server 2003 and Linux derivates.
Besides of this technology, continuous maintenance and checks of log files provide the necessary administrative background on the firewalls and servers.  Of course our administrators know excellently about the solutions either sold by us or produced by ourselves. Please ask for our attractive offers around Cloud computing and IT IS sky.
The sky is the limit, even with the cloud.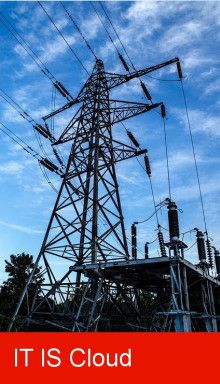 For more Information.....