IT IS Software-Partner
We are happy to do partnership with you
Seit 1999 entwickelt das Team der IT IS AG hochwertige E-Business-, E-Commerce- und Internet- Lösungen für Unternehmenskunden.
Wir sind führender Produzent von hochwertigen Produkten für Intranet, Internet (Extranet) und Kommunikation. Mit Hilfe unserer Partner vertreiben wir unsere Software und bieten bei Bedarf auch Projektarbeiten an. Das stetig wachsende Partnernetz zählt derzeit über 90 Partner weltweit.
January 2014: New Partnership with KWizCom  We are happy to announce that IT IS is now in the Partner Network of KWizCom. Here´s a short company description: Since 2005, KWizCom has provided innovative solutions and services to make SharePoint even better for over 5,000 companies worldwide. KWizCom's solutions and services expand Microsoft SharePoint out-of-the-box capabilities, streamline workflow, maximize efficiency and enhance over-all productivity for hundreds of thousands of users.
Your advantages by subscribing with IT IS Software-Partner
Lassen Sie sich von den vielen interessanten Vorteilen und Nutzen für die Weiterentwicklung Ihres Unternehmens überzeugen und stärken Sie Ihre Marktposition durch eine Mitgliedschaft im IT IS Software Partner-Programm. Erwerben Sie den IT IS Software-Partnerstatus und nutzen Sie die Vorteile, die diese starke Partnerschaft für Sie bringt.
Die Vorteile liegen auf der Hand: Mit einer zentralen Anmeldung haben Sie Zugriff auf unsere Softwareprodukte. Ein niedriger jährlicher Beitrag erschließt Ihnen grenzenlose Möglichkeiten, mit denen Sie Ihr Portfolio auf einfachste Art und Weise erweitern können - zum Beispiel mit unserem neuesten Produkt IT IS mobiligence, dem Offline Client für Microsoft Dynamics NAV. Oder mit IT IS enbex, der Schnittstelle für den elektronischen Dokumentenaustausch in der Entsorgungswirtschaft.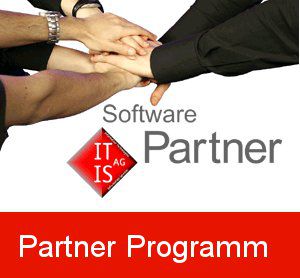 Die Vorteile von IT IS SP im Überblick
Schreiben Sie einen oder zwei kurze Abschnitte zur Beschreibung Ihrer Produkte und Dienste. Um erfolgreich zu sein, sollte der Inhalt für Ihre Leser möglichst interessant sein.
Beginnen Sie mit dem Kunden - finden Sie heraus was er will und informieren Sie ihn zu diesem Thema.
Neue Kunden durch unser Lead-Programm
Bevorzugte Versorgung mit Informationen zu neuen Produkten
Frühzeitige Ausstattung mit Produktdemos
Zugriff auf Insiderinformationen über unsere Produkte
Vier kostenlose Supportcalls mit insgesamt 2 Stunden Bearbeitungszeit
Zugriff auf kostenloses Marketingmaterial zu allen Produkten über das Partner Portal